4000W Pure Sine Wave Power Inverter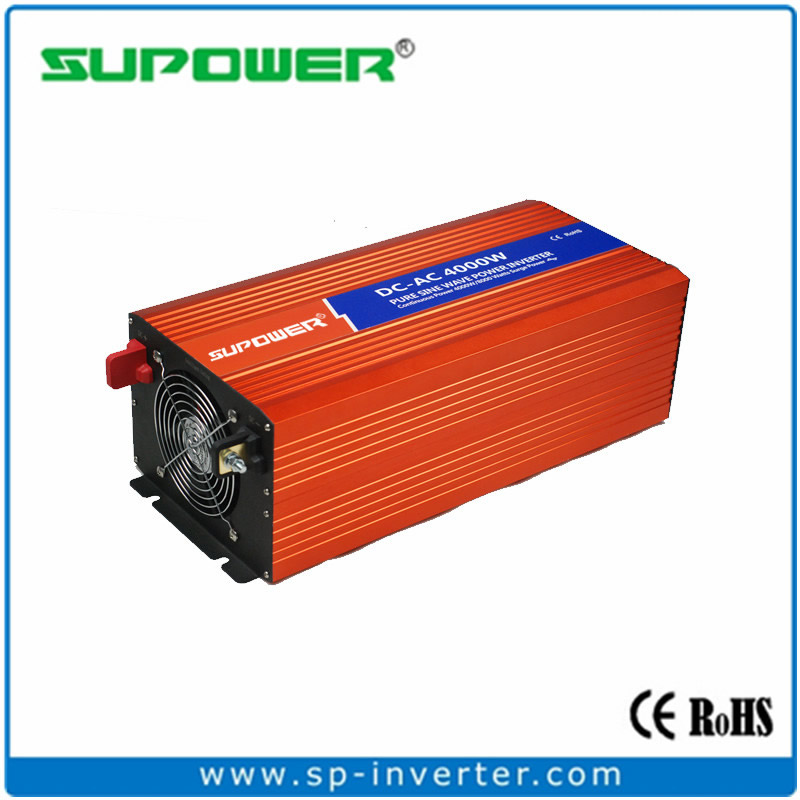 SUPOWER car inverter series are widely applied to the moving car/train control unit, energy laboratories of a number of colleges and universities, pure sine wave inverters the municipal postal sector, tax / business system, urban construction and other areas. Our products car inverters also have been exported to France, Germany, the United States, Japan, Dubai, India, Nigeria, Singapore, Australia and other countries, enjoying a good reputation among our customers.
1.High frequency combinatorial circuit technology
2.Pure sine wave power inverter, performance related fan control
3.Accurate and stable sine through analogue technique
4.High efficiency
5.Protection against reverse polarity and short-circuit
6.Auto-restart-function
7.LED indication for operation
8.Switch off at too high temperature
9.Deep discharge protection for battery
10.Under and upper voltage control
11.Overload protection
12.Soft-start function

SUPOWER has a CPU core SPWM pulse width control technology and the original constant power technology. All high-quality original to ensure high efficiency and high frequency. SUPOWER 4000 watt inverters. Applications: Railway power generation, industrial control, communications exchange; Solar power, wind power, gas power generation


100VAC or 110VAC or 120VAC ±5%

220VAC or 230VAC or 240VAC ±5%

LED Alarm and Automatic Recovery

LED Alarm and Automatic Recovery

LED Alarm and Automatic Recovery

LED Alarm and Automatic Recovery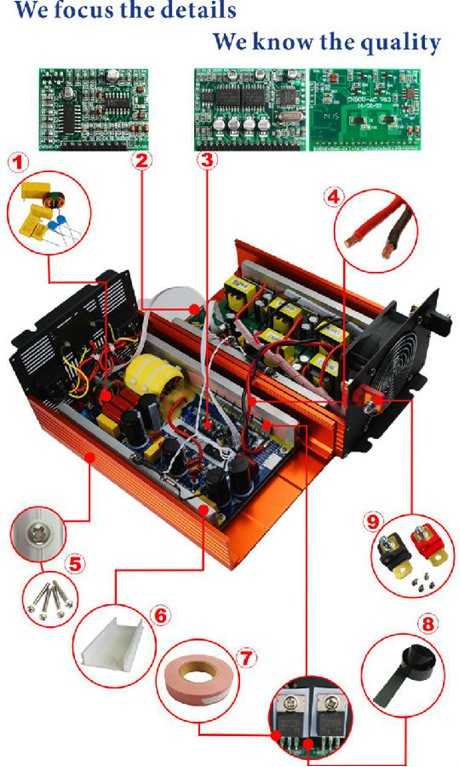 1. Better inhibition EMI interference
2. The former driver control panel ,PWM signal, the perfect protection, precision patch.
3. The after driver control panel, Four-layer board sided precision chip technology, improve the protection of the sine wave signal modulation
4. GB Copper Wire, reducing the line losses
5. Stainless steel screws, insulation covering played shell and radiator insulation ,more safe.
6. Oxidation treatment radiator, heat dissipation more better, more safe.
7. Insulating paper ,make the heat sink and PCB circuit board insulation ,avoid leakage, safety protection
8. High quality silicone thermal pad, thermal faster, insulation better.
9. High current terminal, over 300A rated current, safe and reliable