200W-1000W 24-30V INPUT WIND POWER MICRO-INVERTER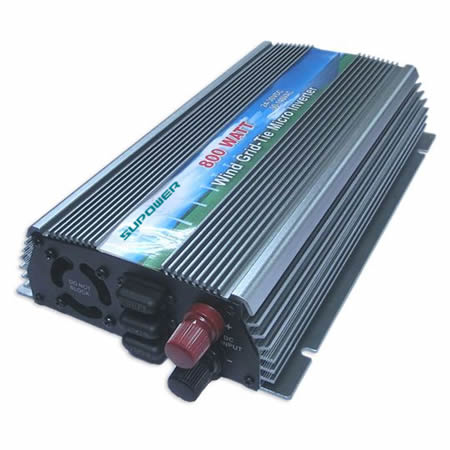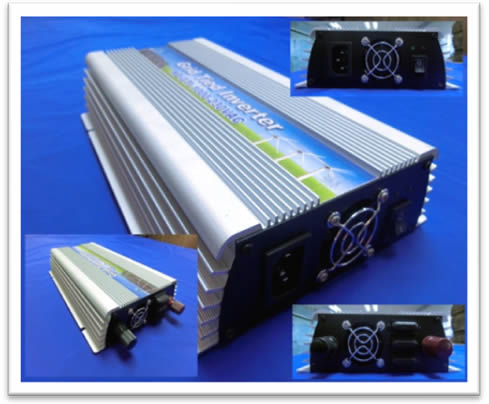 MODEL: SP-WGTI-200W / 1000W
Display function
4.

DC low- voltage display(protection)
5.

DC over-voltage display(protection)
6.

Over temperature display(protection)
1.

LED in green and steady, it means the power is locked, and the inverter works.
voltage input(24V-30V)
1. DC voltage input:

24-30VDC
2 Second level power variable voltage conversion
High-frequency two-way and one-way grid function
1.

High frequency direct modulation, AC half wave synthesis
2.

Two-way grid means: Load consume directly. And can reverse AC current transmission.
Vector wind speed automatic control
Adopt precise vector wind speed automatic control function. In different wind speeds, the output voltage of wind power generator is different. It means the output voltage is not stable in the long run. It's very hard to control working condition in the steady state whether for the battery control or inverter system. Because of the unsteady voltage of the

wind turbine, the inverter using load for automatic control wind power generator speed, at high speed, load increasing, at low speed, load corresponding reducing. It could make the wind power generator in a constant speed state and control the output voltage at stability of wind power generator. In the same time it could make the wind generator power of all the output to the load! Then greatly improve the efficiency of wind power and its utilization rate of increase! The experiment shows that this system could make theutilization rate of wind power up by more than 40%.

And do not need to connect battery.
1.

Vector wind

speed automatic control: the precision is 0.1 V
2.

Power lock:10W(AC output)
AC 0 angle with high precision auto-detection
AC phase angle of 0 through isolation amplifier then input to the MCU for high-precision detection and analysis. The phase shift rate is less than 1%, thus achieve high-precision with phase modulation AC output together.
2.
Over-zero protection: 0.2 VAC
3.
AC switching: 50Hz / 60Hz
Synchronous High-frequency Modulation
In the process of the grid, usually adapt the same phase angle in parallel.
(ie, When the two-phase alternating current total is equal to 0.Use switch to combination the two AC fusion) and the product is rectified AC half-frequency AC to 100Hz first, then the machine use the high frequency current in the circuit and semi-100Hz frequency alternating current generated combination, to achieve high-frequency modulation.
1.
Modulation synthesis: half wave and full-bridge modulation synthesis (100Hz / 120Hz)
2.
Synthetic way: MOSFET full-bridge
Pure Sine Wave Output
Use SPWM directly to make pure sine wave output.
1.

Output waveform: Adopt complementary PWM to push-pull pure sine wave.
2.

Generate means: enhancement-mode SPWM
Automatically Adapt To Different Load Power Factor
Adapt to any of the power load.
Constant Current, Constant Power
This product is constant current, constant output power, without any overload, over-current phenomenon.
Automatically Shut Down When The Power Grid Fault
When the city power system is in failure, the inverter will automatically turn off the output.
Current Limit Protection
Current limit, this product is constant current, constant output power, without any overload, over-current phenomenon.
Multiple small power inverters in parallel can achieve large output power.
High-Frequency High Conversion Rate
Adapt high frequency converter, the output more efficient.
Accessories for product
3.

One certificate of quality
Stack using
In order to achieve higher power use requirements, this product can be stacked, such as: 4 grid inverter260W stacking can achieve 1040W.And the number of the stacking is unlimited. Used as shown in
DC Input
Input voltage range: 24V to 30V
Standard voltage of wind turbine: 24V
AC output
Voltage range of the inverter whose output is 220V AC.: 190V - 260V,50HZ
Voltage range of the inverter whose output is 110V AC.: 90V - 160V,60HZ
Grid-series models

Maximum input current ( DC )

Maximum output power factor

Output short circuit protection

AC standard voltage range

Ambient temperature range

Electromagnetic Compatibility

EN50081.part1 EN50082.part1
N.W (kg)

inner box :27x19.5 x 9.5(1PC)

outer box :49.5x28.5x 41(10PCS)

inner box : 30.5x21x11.5(1PC)

outer box : 42.5x31.5x36.5(6PCS)

inner box : 39.5 x 21 x 11.5(1PC)

outer box : 42.5x40.5x25(4PCS)
1、Installation Connection
1、Connect both of the wind turbine and grid Inverter terminal directly, red to red, black to black.
2、Connection the AC cord to home 3PIN AC outlet directly.
3、Turn on the switch of the panel, the Grid Inverter will be work.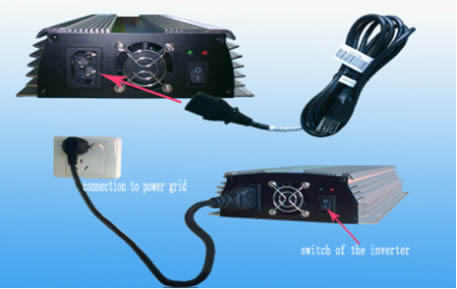 Laboratory test results and waveforms
The following figure shows the grid voltage, grid current, system transfer and island transportation MPP voltage waveform. In the following oscilloscope images, waveforms' color and have the following meanings:
CH1 = yellow color is the wind micro-inverter input voltage 
CH2 = green color is the wind micro-inverter input current
CH3 = purple color is the power grid voltage
CH4 = magenta color is the power grid current
Grid voltage and grid current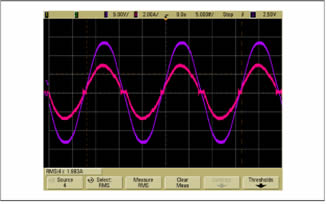 System islanding operation: power failure, the system shut down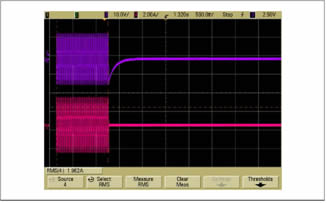 System islanding operation: When the AC voltage peak power failure the system shut down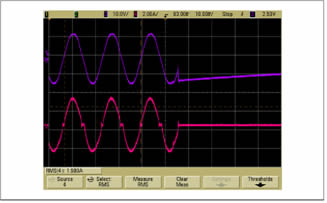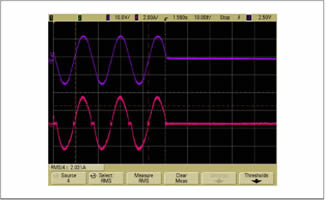 Night mode: When the input voltage is less than the low-voltage threshold, the system shut down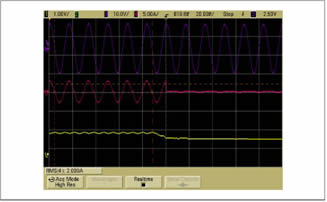 Wind power generator voltage ripple and current ripple
---Do note the operating voltage range of 24 V-30V, or it will not in normal operation.
---Non-professional do not disassemble the inverter, only qualified serviceman can repair it.
---Please install inverter in the low humidity and well-ventilated place to avoid the inverter overheating, and clear around the inflammable and explosive materials.
---Using the inverter out of children's reaching place to avoid electric shock.
--- Recommended to use 4 AWG DC input cable that can handle more than 50 A current.
- - The optimum length of DC input cable is 8 M or shorter, because long cable will make more power loss of the DC voltage dropped from solar panels to inverter.
---Connect the AC terminal to AC power socket.
---Connect the DC terminal to wind turbine.
System islanding operation: When the AC voltage power grid in the zero value at the failure of the system shut down