10A 15A 20A 30A Automatic 3 Stages Car Battery Charger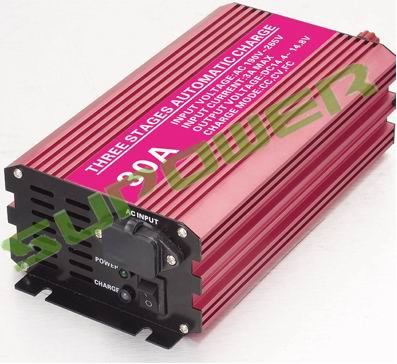 SUPOWER Automatic 3 stages Car Battery Charger is a fully automatic charger. Automatic 3 stage charge , LED indicates different charge status. We produced 12V, 24V series recently. An external temperature sensor is optional, if it is installed, it will adjust the bulk and float charge voltage according to the temperature of the battery type.

Production Features:
· Automatic 3 stage charge : constant current, constant voltage, floating charge
· Automatic Temperature Compensation
· LED indicators for different charge status
· Fully protection : short circuit , over charge , over heat,reverse polarity protection
· Strong & stylish : designed by reliable high frequency technology with smaller size
·Compact & Reliable: designed by stylish aluminum case with better cooling efficiency
·ON/OFF switch control the charger by hand.
Technical Specifications Table
:
LED light to indicate
:
The level voltage of battery
red green green green yellow
Instructions for operation
:
1) The charger is design for charging Lead Acid Battery or Gel Battery. Be sure it is suitable to your storage battery and voltage before the usage, and charger current is enough to assure the charging completely finished on time.
2) Turn the switch off before connecting to the storage battery, then correctly connect charger positive (red) clip to positive storage battery post, and the negative (black) clip to the negative post(Attention: ※reverse connection will cause damage to the charger). Connect the charger with 220vac city power, turn on the switch, and charging begins. Please keep charging for extra one hour at least when the red LED is bright.
3) Automatic floating charge situation will be reached when the battery is full. Damages caused by over-charge will be avoided.
Optional input plug type: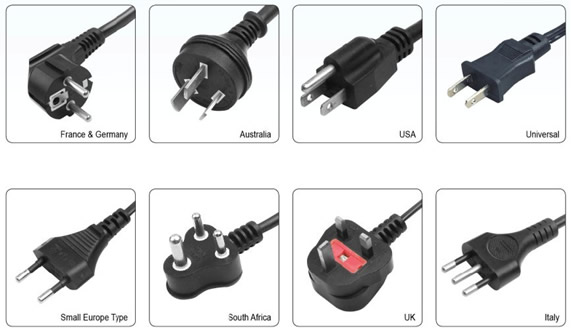 1) The plug must be unplugged before disconnection and connection of the storage battery, OTHERWISE damage to the charger may be caused.
2) Although the charger is equipped with comprehensive protection functions, moisture-proof, humid-proof and high-temperature-proof shall be your concerns of the working environment, OTHERWISE the lifespan of the charger will be shortened.
3) Check whether the fuse is burned out or battery cord is mis-connected when the charger does not work properly, such as the charging LED light is off or no current for charging.
4) If not in use for a long term, frequent floating-charge for the storage battery, check atterof the battery water and battery cleaning are necessary to protect the storage by.